2020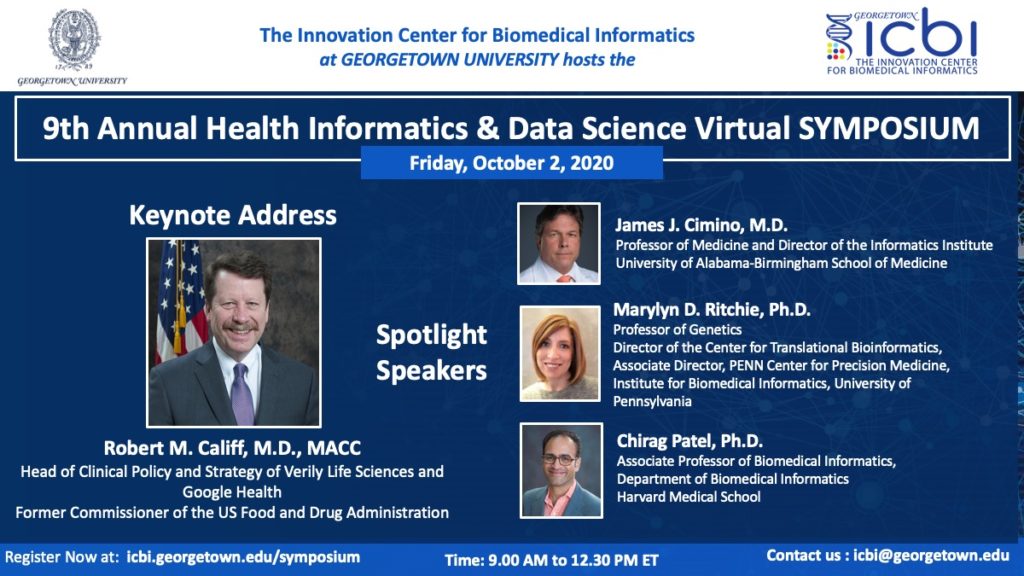 9th Annual Health Informatics & Data Science Virtual Symposium at Georgetown University
October 2nd – 9:00 am to 12:30 pm
9:00 – 9:15:
Introductions and welcome remarks
Edward B. Healton, M.D., M.P.H., Executive Vice President for Health Sciences & Executive Dean, Georgetown University School of Medicine
Joseph G. Verbalis, M.D., Professor and Chief, Endocrinology and Metabolism; Director, Georgetown-Howard Universities Center for Clinical and Translational Science, Georgetown University
Subha Madhavan, Ph.D., FACMI, Chief Data Scientist, Georgetown University Medical Center & Director, Innovation Center for Biomedical Informatics
9:15 – 10:00 :
Keynote Address
"Role of Information Integration:Battling Fragmentation in Biomedicine and Healthcare"
Robert M. Califf, M.D., MACC,
Head of Clinical Policy and Strategy of Verily Life Sciences and Google Health; Former Commissioner of the Food and Drug Administration.
Spotlight talks
10:00 – 10:30:
"Is Biomedical Informatics Abetting Systemic Racism"
James J. Cimino, M.D.
Professor of Medicine and Director of the Informatics Institute, University of Alabama-Birmingham School of Medicine.
10:30 – 11:00:
"Electronic Health Records – Fueling Precision Medicine"
Marylyn D. Ritchie, Ph.D.
Professor of Genetics, Director of the Center for Translational Bioinformatics, University of Pennsylvania.
11:00 – 11:30:
"Deconvolving genetics and environmental risk associated with complex disease with real-world biobanked data"
Chirag Patel, Ph.D.
Associate Professor of Biomedical Informatics, Harvard Medical School.
11:30 – 12:30:
Georgetown-PrecisionFDA Brain Tumor Biomarker Discovery challenge
Introduction: Louis M. Weiner, M.D., Director, Georgetown Lombardi Comprehensive Cancer Center, Director, MedStar Georgetown Cancer Institute & Chair, Department of Oncology
Moderator: Yuriy Gusev, Ph.D., Associate Professor, ICBI, Georgetown University Medical
Lightning talks
"Utilizing multi-omics data for Predictive Modeling of Brain Cancer outcomes"
Nan Xiao – Seven Bridges Genomics, Charlestown, MA
Konstantinos Paraschakis – Gnosis Data Analysis ,University of Crete Heraklion, Crete, Greece