Symposium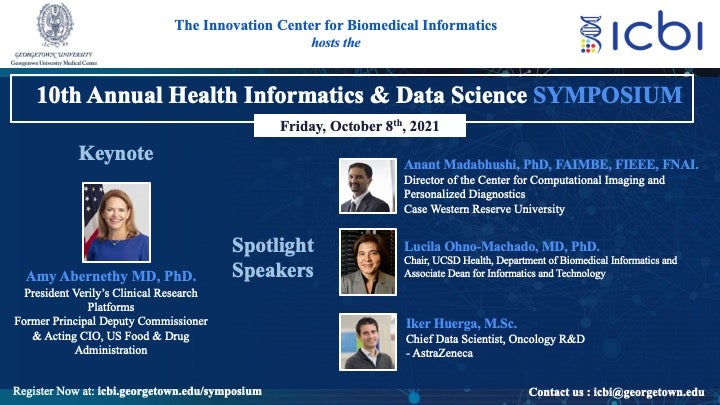 10th Annual Health Informatics & Data Science Virtual Symposium at Georgetown University
October 8th – 9:00 am to 12:30 pm
Please log on with the email address you registered with.
9:00 – 9:15:
Introductions and welcome remarks
Spiros Dimolitsas, PhD. Senior Vice President for Research & Chief Technology Officer Georgetown University
Joseph G. Verbalis, M.D., Professor and Chief, Endocrinology and Metabolism; Director, Georgetown-Howard Universities Center for Clinical and Translational Science, Georgetown University
9:15 – 10:00 :
Keynote Address
" Future of Digital Health: Challenges and Opportunities"
Amy Abernethy MD, PhD.
President Verily's Clinical Research Platforms. Former Principal Deputy Commissioner & Acting CIO, US Food & Drug Administration
10:00 – 11:30:
Spotlight talks
Session Chair
Subha Madhavan, Ph.D., FACMI, Head, Data Science, Oncology R&D, AstraZeneca – Advisor and Adjunct faculty, GUMC
"Data-Centric AI in Clinical Research"
Iker Huerga, M.Sc.
Chief Data Scientist, Oncology R&D – AstraZeneca
 "Interpreter of Maladies – Computational Imaging as a Companion DIagnostic"
Anant Madabhushi, PhD, FAIMBE, FIEEE, FNAI.
Director of the Center for Computational Imaging and Personalized Diagnostics. Case Western Reserve University
 "Balancing Data Sharing and Individual Privacy"
Lucila Ohno-Machado, MD, PhD.
Chair, UCSD Health, Department of Biomedical Informatics and Associate Dean for Informatics and Technology
Remarks
Edward B. Healton, M.D., M.P.H., Executive Vice President for Health Sciences & Executive Dean, Georgetown University School of Medicine
11:30 – 12:30:
Poster Lightning Presentations
The symposium will include an on-line poster session in which select posters from the areas of health informatics, data science, analytics, computational modeling, molecular medicine, precision health and related state-of-the-art technologies will be presented.
Accepted Posters
Session Chair: Yuriy Gusev, PhD.
Highlights from our Previous Years