Symposium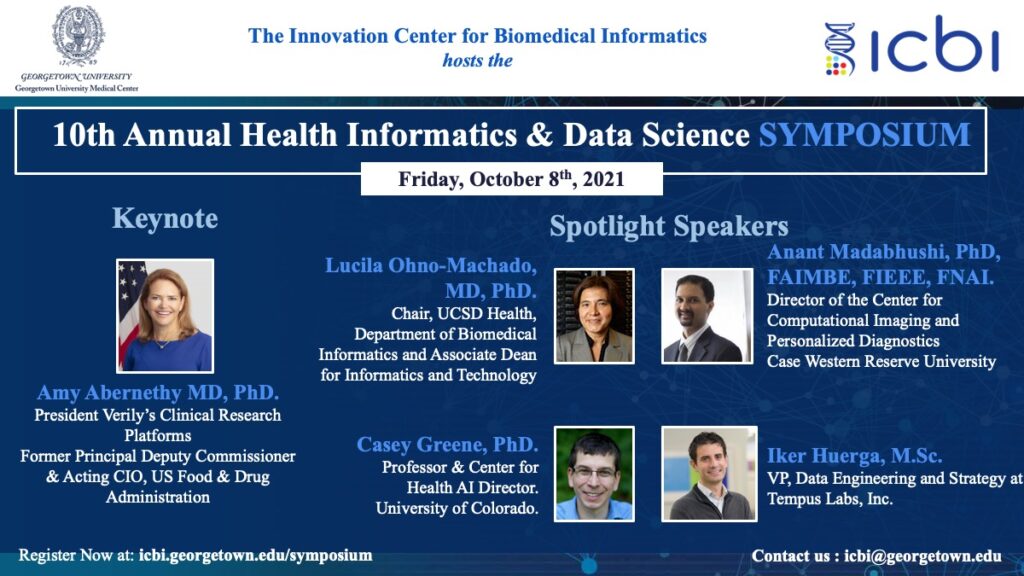 10th Annual Health Informatics & Data Science Virtual Symposium at Georgetown University
October 8th – 9:00 am to 12:30 pm
9:00 – 9:15:
Introductions and welcome remarks
9:15 – 10:00 :
Keynote Address
" Future of Digital Health: Challenges and Opportunities"
Amy Abernethy MD, PhD.
President Verily's Clinical Research Platforms. Former Principal Deputy Commissioner & Acting CIO, US Food & Drug Administration
Session Chair
Joseph G. Verbalis, M.D., Professor and Chief, Endocrinology and Metabolism; Director, Georgetown-Howard Universities Center for Clinical and Translational Science, Georgetown University
10:00 – 11:30:
Session Chair
Subha Madhavan, Ph.D., FACMI,
Spotlight talks
"Interpreter of Maladies – Computational Imaging as a Companion DIagnostic"
Anant Madabhushi, PhD, FAIMBE, FIEEE, FNAI.
Director of the Center for Computational Imaging and Personalized Diagnostics. Case Western Reserve University
"talk title"
Lucila Ohno-Machado, MD, PhD.
Chair, UCSD Health, Department of Biomedical Informatics and Associate Dean for Informatics and Technology
"talk title"
Casey Greene, PhD.
Professor & Center for Health AI Director. University of Colorado.
"talk title"
Iker Huerga, M.Sc.
VP, Data Engineering and Strategy at Tempus Labs, Inc.
Remarks
Edward B. Healton, M.D., M.P.H., Executive Vice President for Health Sciences & Executive Dean, Georgetown University School of Medicine
11:45 – 12:30:
Poster session
Session Chair: Yuriy Gusev, PhD.
Highlights from our Previous Years